Get wholesale price information on Snap Clamps and 3 way / 4 way / 5 way structural, furniture grade PVC fittings.
Contact information for Circo Innovations (snapclamp.com)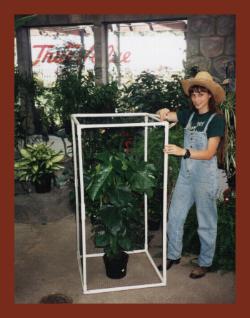 To find a store where you can purchase our products, please see our list of RETAIL OUTLETS. Customers purchasing a total of 4 or more boxes of our products qualify for our basic wholesale pricing and are encouraged to contact us. Retail Outlets, Catalogs, and Manufacturers please contact us for large quantity pricing. Our products are selling especially well in Gardening Catalogs and Home Centers (with a garden department). Snap Clamps are our own patented product, so you will not find a better source.
| | |
| --- | --- |
| When e-mailing us, please include the following information: | |
| *Company name | |
| *Name of person requesting prices | |
| *Address | |
| *Phone number | |
| *Fax number (preferred method to send information) | |
| *Type of business (i.e. Home Center, Nursery, Mail-order Catalog) | |
| *Item numbers and quantity of products you are interested in | |
Or call us at 1-877-SNAPPVC (762-7782) Mon-Fri 9am-5pm PST. We look forward to serving you.
Circo Innovations
14910 Meadow Dr.
Grass Valley, CA 95945
Phone: 1-877-SNAPPVC (762-7782), Fax: 1-530-272-1395, Email wholesale@snapclamp.com.